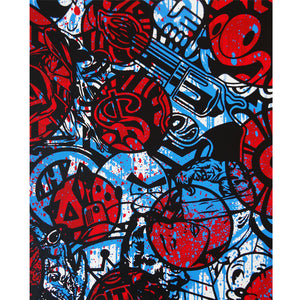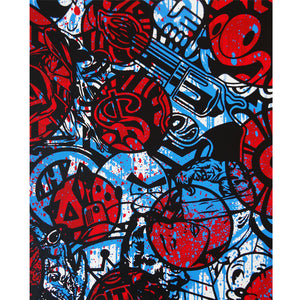 SPECIAL EDITION, Speedy Graphito: Made in America
Title: Speedy Graphito: Made in America (Special Edition)
Medium: Book (240 pages) + 8x10" silkscreen (signed and numbered)
Edition: Edition of 100
Year: 2014
ISBN: 978-0-615-74703-3
Dimensions: 11.75 x 8.75 x 1 in. (30x22x3cm)
The SPECIAL EDITION of "Speedy Graphito: Made in America" consists of a signed and numbered book, limited edition of 100, and an 8 x 10 in. silkscreen by the artist, also signed and numbered.
"Speedy Graphito: Made in America" is the culmination of the past four years the artist spent working in the U.S. This volume on Speedy Graphito's work, from exhibitions and special projects to performances and art fairs, presents an exclusive look into his creative evolution and rise to prominence in the international contemporary art world.
This 200+ page art book details Speedy's creative evolution through images of his work and an essay by Los Angeles art critic Shana Nys Dambrot.