News — Artist Collaborations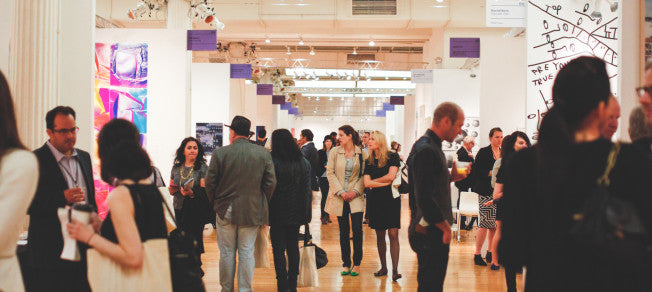 The first art fairs of the year are starting at the end of this month and the frenzy will continue on throughout the Spring. Freeway Editions will be sharing some of our favorite fairs as the madness ensues! This week we are highlighting PULSE Contemporary Art Fair NYC as one of our top picks. Check out the fair's information listed below and mark your calendars!
About PULSE:
Founded in 2005, PULSE Contemporary Art Fair is an established part of the annual art calendar with editions in New York and Miami Beach. The fair is recognized for providing its international...
---
Happy New Year everyone! We hope that each of you had a lovely holiday season and are looking forward to a bright new year! In the spirit of the new season why not take a look at all the one of a kind artwork that Freeway Editions has to offer? Our holiday guide is still up on the website for your perusal. Let 2016 be the year you grow your hand painted art print collection! 
---
Freeway Editions is doing another Art News recap from the past week or so. Lots of cool things happening all over, our artists have been busy this year! Here are our top three picks from the past week. 
1. JonOne is collaborating with Lacoste! The artist will have a collection of signature shirts, all brandishing his distinctive style. Check out the full video to learn more. VIDEO HERE.
"This short film describes JONONE's visceral need to create and his unwavering determination to paint for over 30 years, repeatedly...
---
Photo credit: Birdman photography via @riskrock
This past week world renowned street artists, including some of Freeway Editions' very own, have been working on a series of mural projects at Art Center College of Design in Pasadena. These artists have come together to create a community conversation around the accessibility and social impact of street art. 
Photo care of Art Center Blog.
From the press release:
"Street art has exploded as an anti-authoritarian form of art making and an important global movement...
---
This week Freeway Editions artists have all gathered in Bogotá Colombia to participate in a myriad of art fairs, live art events, and the opening group exhibition at Fabien Castanier Gallery's newest location. Barcú, Odeón, and ArtBo are all happening right now in Bogotá and with these fairs comes a frenzy of new works and exciting events to discuss.
At Barcú artist such as: Speedy Graphito, Tilt, Mark Jenkins, Chanoir, DJ Lu, and Ludo are all participating in a special exhibition curated by Fabien...
---